Hello there! Welcome back to another weekly WWW wednesdays meme 🙂
The WWW meme was formerly Hosted by Miz B at Should be Reading
Now It was revived at Taking on a World of Words
To play along, just answer the following three (3) questions…
• What are you currently reading?
• What did you recently finish reading?
• What do you think you'll read next?
I AM CURRENTLY READING:

RUTHLESS BY CAROLYN LEE ADAMS
BLURB:A spine-tingling debut about the ultimate game of cat-and-mouse in reverse as a teen struggles to retain hope—and her sanity—while on the run from a cunning and determined killer.
Ruth Carver has always competed like her life depends on it. Ambitious. Tough. Maybe even mean. It's no wonder people call her Ruthless.
When she wakes up with a concussion in the bed of a moving pickup trick, she realizes she has been entered into a contest she can't afford to lose.
At a remote, rotting cabin deep in the Blue Ridge Mountains, Ruth's blindfold comes off and she comes face-to-face with her captor. A man who believes his mission is to punish bad girls like Ruth. A man who has done this six times before.
The other girls were never heard from again, but Ruth won't go down easy. She escapes into the wilderness, but her hunter is close at her heels. That's when the real battle begins. That's when Ruth must decides just how far she'll go in order to survive.
Back home, they called her Ruthless. They had no idea just how right they were.
---
I JUST RECENTLY FINISHED READING:

FAKING PERFECT BY REBECCA PHILLIPS
"A contemporary YA novel with a mix of romance about finding your trueself and being happy with who you are"
Review coming soon…

BLURB: When Lexi Shaw seduced Oakfield High's resident bad boy Tyler Flynn at the beginning of senior year, he seemed perfectly okay with her rules:
1. Avoid her at school.
2. Keep his mouth shut about what they do together.
3. Never tease her about her friend (and unrequited crush) Ben.
Because with his integrity and values and golden boy looks, Ben can never find out about what she's been doing behind closed doors with Tyler. Or that her mom's too busy drinking and chasing losers to pay the bills. Or that Lexi's dad hasn't been a part of her life for the last thirteen years. But with Tyler suddenly breaking the rules, Ben asking her out, and her dad back in the picture, how long will she be able to go on faking perfect?
FIGHTING TO BREATHE BY AURORA ROSE REYNOLDS
"The story is all about finding second chance at Love"
Review Posted Here

BLURB: Lea Lamb and Austin Wolf were young when they fell in love. They never imagined the future could hold anything other than together-forever.
When Lea's father dies in a tragic fishing accident, she's crushed under the weight of her grief and catches a glimpse of another type of future, one she knows she's not strong enough to face.
Austin is angry. For the past fifteen years, he's believed the woman he loved with every ounce of his soul left him without so much as a backwards glance.
When Lea unexpectedly returns to their hometown, all the years of heartache inside Austin bubbles to the surface and presents itself as blinding rage.
Faced with the truth about the past, a newly discovered secret, these former lovers will learn that if they want to have any chance at the future they'd given up on all those years ago, they will have to rescue one another from drowning in pain so debilitating it will leave them both fighting to breathe.
QUEEN OF BLOOD BY JILL MYLES
"A Beautiful Romantic Love Story between a Cursed Vampire Prince and a Human"
Review Posted Here

BLURB: For one hundred years, Seri's people have lived under the thumb of the Blood, the cruel and mysterious rulers of Athon. Seri wants nothing more than to put food on the table and marry the hotheaded but handsome Rilen come spring. But when a noblewoman asks Seri to be her handmaiden, Rilen insists she move to the enemy's castle . . . and spy on the newly arrived prince.
Prince Graeme has grown weary of his family's curse. The Blood are powerful and immortal, but doomed to live in the shadows, flitting from lover to lover, always in search of the mythic Eterna—the one woman who will sate their hunger. Now his father has sent him to the outskirts of the empire to stamp out a rebellious Vidari faction. But when a wild and alluring Vidari girl shows up at court, he finds himself torn between following his father's orders and following his heart . . .
A war is brewing between Athonite and Vidari, between Blood and man. As uprisings sweep through the land, Seri and Graeme find themselves at the center of a storm with only one choice: betray each other, or betray their people.
---
NEXT I'M GOING TO READ THESE BOOKS:
SILVER IN THE BLOOD BY JESSICA DAY GEORGE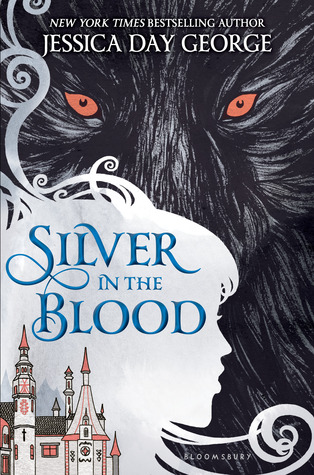 BLURB: Society girls from New York City circa 1890, Dacia and Lou never desired to know more about their lineage, instead preferring to gossip about the mysterious Romanian family that they barely knew. But upon turning seventeen, the girls must return to their homeland to meet their relatives, find proper husbands, and—most terrifyingly—learn the deep family secrets of The Claw, The Wing, and The Smoke. The Florescus, after all, are shape-shifters, and it is time for Dacia and Lou to fulfill the prophecy that demands their acceptance of this fate… or fight against this cruel inheritance with all their might.
With a gorgeous Romanian setting, stunning Parisian gowns, and dark brooding young men, readers will be swept up by this epic adventure of two girls in a battle for their lives.
THE CRAWLING DARKNESS(Ellie Jordan, Ghost Trapper #3) BY J.L. BRYAN
Ghost removal specialist Ellie Jordan must face a dangerous, shape-shifting entity that she and Calvin have encountered once before, with tragic results. The spirit has the power to reach into the minds of living and feed on their fears, taking the shape of their worst nightmares, and it has awoken in search of new victims. Now Ellie must try to succeed where she and her mentor failed before, and try to defeat the twisted and powerful old ghost before it can claim another soul for its collection.
ELUDE BY RACHEL VAN DYKEN
BLURB:Twenty-Four hours before we were to be married–I offered to shoot her.
Ten hours before our wedding–I made a mockery of her dying wish.
Five hours before we were going to say our vows–I promised I'd never love her.
One hour before I said I do–I vowed I'd never shed a tear over her death.
But the minute we were pronounced man and wife–I knew.
I'd only use my gun to protect her.
I'd give my life for hers.
I'd cry.
And I would, most definitely, lose my heart, to a dying girl—a girl who by all accounts should have never been mine in the first place.
I always believed the mafia would be my end game–where I'd lose my heart, while it claimed my soul. I could have never imagined. It would be my redemption.
Or the beginning of something beautiful.
The beginning of her.
The end of us.
---
Please Feel Free To Comment Below. ❤
See You In The Next Post and Have a Great Day! 🙂