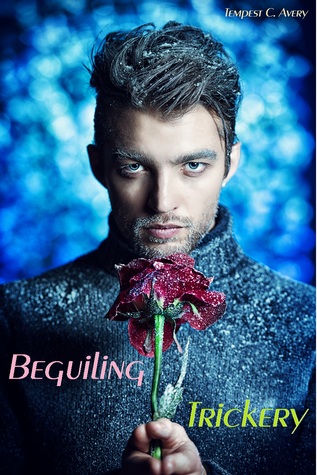 RELEASE DATE: April 1, 2015
AUTHOR: Tempest C. Avery
GENRE: Young-Adult, Fantasy, Mythology,  Romance.
SUMMARY: Two all power beings want her. One is a literal nightmare, the other is a god straight out of mythology.
Kenna Erikson knows absolutely nothing about Norse mythology. Which is daunting, considering she's a volur, a type of seer the Vikings believed garnered favor with the gods. For the most part, she ignores her gifts, and the useless ability to foresee thirty or so seconds into the future. For as long as she can remember, she's had only herself to rely on, and she likes that just fine. However, when shadows suddenly come alive and attack her, she's forced to seek outside help in the form of tall, blonde, and infinitely annoying, Luka. Somehow, Luka knows all about her attackers, and the mythology they spring from. He's also eager to help out, despite the fact they've only just met. But what secret is he keeping? Who is he really? And why does her heart flip every time he's around?
MY REVIEW: So, I'm pretty much confused about rating this book cause I liked the book but it seemed kinda slow to me. I've received this book from the author in return for an honest review. This book intrigued me because I'm new to the Norse mythology so I was pretty much excited to read this book.I didn't expected much but it wasn't disappointing either but it could be better.The cover is gorgeous and I'm also curious to know who's the guy in the cover supposed to  be cause Luka has a blonde hair.
The character Kenna Erikson she was a kickass character who knows mixed martial arts, but I've  seen her using her skills only once and that's a bit disappointing. Kenna  has a great self confidence and tough personality who didn't want to depend on anybody. The thing I didn't like about Kenna is, she is a bit whiny and always praises herself about how good she was at MMA and reading it several times was kinda annoying when she hasn't used much of her MMA skills in this plot. The other character Luka he is a hot and arrogant jerk of a guy who  seems to hate her and love her but always protects her.The supporting characters are kinda ok not bad and I really liked the friendship between Kenna and Fiske.
Kenna is a college going girl who has the ability to look into the future before it happens almost  like a seer, but she didn't have any control over her power. when she was a kid she had a sad life after her father passed away and now she is a grown up and she didn't want to depend on anyone and earns herself for the living. She has a poor social life where her only friends are Fiske and Parker and they are also the only people who knows about her ability besides her parents. At a party Kenna's eyes collide with Luka for the first time and she gets entranced by him but when she realizes he was giving her a hateful look she was confused and angered because she didn't even know him. Kenna is surprised to know Luka  already knows about her ability and he introduces her to the world she thought was just a myth and she also didn't have any idea on the Norse mythology. After sometime strange things starts to happen and she gets attacked by strange beings who don't belong to the human world and she doesn't understand why someone would want her dead.So, reluctantly she seeks the help of Luka who is familiar with this other world.
Ok, The plot was fantastic but I think it was dragged too much and adding to that it was also slow paced which I hate most in the books. There are not much of action scenes besides the climax scene and it would have been much better if there was more action and less whiny protaganist who thinks she is strong and we only see the character development at the end. The chemistry between Luka and Kenna is too much cliche you know what I mean.There are also too many funny banters between them and they always avoid the attraction between them but they couldn't control the feelings they have for each of them.
The writing style wasn't creative but it was ok and can be easily understood. I was frustrated when half of the book completed and WTH nothing happens so it will make the readers bored a bit. I think this book wasn't for me and I'm not saying it was bad cause it was fantastic but I'm not into slow paced plots otherwise it would be a amazing read for me. I think many readers would love it who don't have any problem with slow paced plots cause I've seen some readers enjoyed it a lot. I don't know if I could recommend it but do give it a try.
Please Feel Free To Comment Below. ❤
See You In The Next Post and Have a Great Day! 🙂