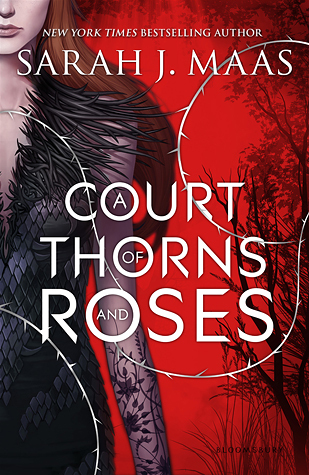 RELEASE DATE: May 5th 2015
AUTHOR: Sarah J. Maas
GENRE:New-Adult, Fantasy, Fae, Fairy-tales, Romance.
PUBLISHER: Bloomsbury Children's
SUMMARY: Feyre's survival rests upon her ability to hunt and kill – the forest where she lives is a cold, bleak place in the long winter months. So when she spots a deer in the forest being pursued by a wolf, she cannot resist fighting it for the flesh. But to do so, she must kill the predator and killing something so precious comes at a price.
Dragged to a magical kingdom for the murder of a faerie, Feyre discovers that her captor, his face obscured by a jewelled mask, is hiding far more than his piercing green eyes would suggest. Feyre's presence at the court is closely guarded, and as she begins to learn why, her feelings for him turn from hostility to passion and the faerie lands become an even more dangerous place. Feyre must fight to break an ancient curse, or she will lose him forever.


MY REVIEW:    
THIS
BOOK
           IS……………..
I'm so glad to finally review this fantastic epic retelling of Beauty and the beast. Beauty and the beast is my favorite fairy tale and will always be close to my heart. I already love  Sarah J.Mass throne of glass series and when I heard that she was going to retell the tale of Beauty & the Beast with the mix of fae, I just couldn't control myself and went crazy with anticipation for the release of the book and now after finally reading it I don't know how to express my feelings but I can say one thing for sure that it's the best retelling from all the books I've read before. Oh and the cover*drooling* I just love it! It's gorgeous and eye-catching and I'll never get sick or tired of staring at it forever.
This book got a fantastic world building with amazing characters who  had their own personalities that made them unique. I have never been as satisfied with a fairy tale retelling as I am with ACOTAR. The characters are witty and fresh, with a  love story that has it all: a swoon-worthy  prince like fae  with charming personality, adventure, action, great chemistry–a true fairy tale romance.Even though it's essentially a retelling, the originality in this novel is outstanding and now it is officially entered  into my top favorite list.
The world that the author created named  prynthia is divided into mortal realms and fae realms consisting  of seven courts ruled by the seven high fae and also the mysterious island named Hybern which is ruled by a king who isn't revealed yet. Due to a treaty  between the fae and the humans, the fae resides in the north side leaving the humans to the south and  the humans would never dare to enter the fae lands. In this plot we only come to know more about spring court and also little bit about night court and I'd really like to know more about the other fae courts and I'm also curious about the  hybern island.
Both Feyre and celaena(from Throne Of Glass series) have unique personalities but I must agree that they are both kickass characters in their own way.Feyre is a well built character who's got so much sass, witty , courage and love for her family, and she will go to any length to ensure the safety of her family and also for the people she loves. Even though she is the youngest of the three daughters she is the strongest and toughest of them all. At start I felt sad for her situation and I'm quite angered with her family especially her eldest sister Nesta who didn't give her the attention she deserved.To save her family from starvation and death she always goes alone into the forest to hunt for the food even knowing the risks of going too far will get her closer to the faerie lands.Unfortunately, her fate is permanently  sealed after she kills a wolf who she assumed is a normal wolf which is in fact a fae creature who belongs to the spring court and now she must pay for the life she has stolen.
Well coming to Tamlin our very own beast in this plot who is a high fae and also the one who rules the spring court and he has a regal and charming personality that will definitely captivate the readers. The plot also got great supporting characters especially Lucien and Rhysand and trust me you'll never get enough of them. Rhysand is a character who is kinda like  Damon from VD and even though he is a jerk I totally love him and Tamlin the same because I've always had a thing for sinful bad guys.
The romance in this plot is of top notch and the steamy scenes in it aren't suitable for young readers and I think this book comes more under mature YA  and New-Adult genre.There isn't any triangle yet in this plot but their is a possibility of it in the sequel and I'm very excited to know how it turns out in the next installment.
And I also liked how the author set up the whole plot with her creative and mesmerizing writing style.It is a beautiful plot with a mix of adventure, action, fantasy,mystery and romance that would surely make you  ask for more.This book is a total perfection with great world building with dynamic characters and a perfect narrative style.After how the book ended I think it's sequel would be a blast and it's a torture that we would have to wait a year for the release of the sequel.Finally, I would highly recommend this book to everyone and you won't regret reading it.And to the one who is reading this review did you read this book yet, if not
Please feel free to share your thoughts or comments below 🙂
Happy Reading! 🙂