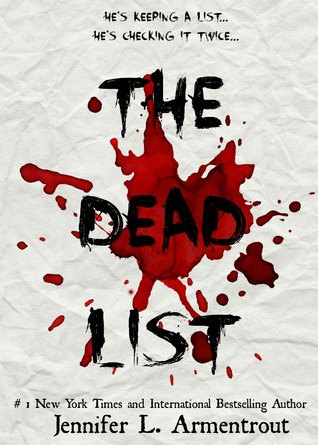 RELEASE DATE: April 15th 2015
AUTHOR: Jennifer L. Armentrout
GENRE:Young-Adult,Mystery,  Thriller,   Horror, Romance.
ABOUT:
From Jennifer L. Armentrout's blog posted on April 15, 2015:
"The Dead List is a full standalone novel, coming in at roughly 93,000 words. It's a Young Adult Romantic Suspense Yes. Lots of Romance. Sort of like Don't Look Back, but a throwback to movies like Scream and the sort of campy fun ones. Think I Know What You Did Last Summer meets Scream. But with more romance.
That's all I'm going to say about the book. I think a blind read is something different. A little fun.
There are no plans at this time to sell it or put it in print soon. I probably will one day, but the point of this is that it's free for you guys.
The Dead List is a raw novel, meaning it hasn't been through copy editing. You'll going to see typos and some strange things. You're actually going to see what a book of mine looks like before copy editors get their hands on it. Hopefully there are no random 'shits' where there is supposed to be 'shirts'.
You can find me on Wattpad by going HERE

MY REVIEW:
Damn this book was truly a mind-blowing thriller filled with mystery & suspense at every turn.Jennifer Armentrout is one of my top favorite authors who was famous for both YA Paranormal Romance genre and also New Adult Romance, I didn't read her other thriller novel named "Don't look back", but I gave this a try and after reading this, I can't express myself how much I'm surprised to find out that not only she was good at writing romance genre, she was fantastic at thriller too.Amazingly it was absolutely free on Wattpadd so don't forget to check it out guys.
The Main protagonist in the plot is Ella.When she was a kid she had three best friends named Penn,Gavin and Jensen.Due to a tragedy their friendship came apart and she grew older burying the past.She had a crush on Jensen when she was a kid and he stood up her once, and she never forgave him and since then she didn't saw him or spoke to him.Now she is a high school senior and her somewhat happy life turns into a horror when she was almost killed by some guy in a clown mask, but she was saved by Jensen who she never thought, would be the guy coming to her rescue.
The scary incident totally frightened Ella when she felt so helpless at that time, so she decided to take the self defense classes to protect herself better for the next time.After that, the plot turns into total chaos when dead bodies of her classmates begins to surface.The Story goes on with  Ella and Jensen becoming closer with time and they  trying to figure out the identity of the murderer and why he is targeting this people.
Ella is a strong character who always stood up brave and strong even when scary things has happened to her.She is a dynamic character and pretty much likable who was easy to get connected with.Jensen is absolutely amazing guy who is physically strong and oozes sexiness and he was always there for her whenever she needed him.The chemistry between Ella and Jensen as expected from J.Lynn it was totally hot with lots of kisses.
Overall, It was really a fantastic thriller which will promise to surprise you at every turn.Every character is a suspect, It was a torture for me whenever I've suspected someone I was proven wrong and that frustrated the hell out of me. My exclusive reactions after the reveal
I was truly shocked twice with the revelation at the end I didn't saw that coming and it was also sad and tragic.But I was happy how it was turned out and after my thrilling experience with this, now I'm gonna definitely read her other thriller "Don't Look Back". So guys, if you are into thrillers with romance then I'd highly recommend this one.
Please feel free to share your thoughts or comments below 🙂
Happy Reading! 🙂