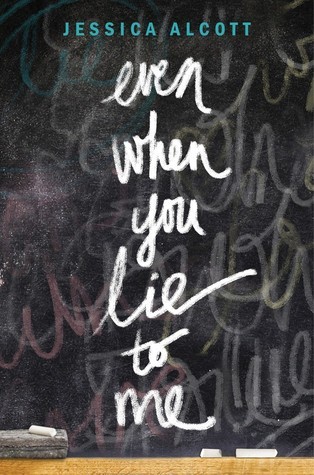 RELEASE DATE: June 9th 2015
AUTHOR: Jessica Alcott
GENRE:Young-Adult,Contemporary,  Fiction,Romance.
PUBLISHER:Crown Books for Young Readers
SUMMARY: Charlie, a senior, isn't looking forward to her last year of high school. Another year of living in the shadow of her best friend, Lila. Another year of hiding behind the covers of her favorite novels. Another year of navigating her tense relationship with her perfectionist mom.
But everything changes when she meets her new English teacher. Mr. Drummond is smart. Irreverent. Funny. Hot. Everyone loves him. And Charlie thinks he's the only one who gets her.
She also thinks she might not be the only one with a crush.

MY REVIEW:
Omg! this book is flat out creepy for me.I expected something like forbidden love, romance and scandalous relationship but all I got is completely different.For me it was nowhere near romantic read. I've read so many student/teacher relationship books, so I have some basic knowledge about how it would go and they are so emotional, but this one really creeped me out.
I didn't liked any of the characters in this including the main protagonist that was a first for me.I should've DNF'ing it, but I really wanted to know how it's gonna turn out.I actually think this one is  suitable for mature YA readers. I was so excited to read it when I had first read the blurb, but while I was reading it I myself  didn't know what  was I reading.
The Character Charlie she is a shy, insecure and antisocial girl who's got only one friend in her whole life. At start I felt pity and sad for her situation but later I was totally irritated with her attitude and I couldn't connect with her.She always felt envious and jealous of her only friend "Lila" who was perfect in every way and flirts with boys who always notices her but not her. she always acts rude to her mom who only wants good for her and wanted to give her second chance so she could understand her better.
Having a crush on your handsome young teacher is pretty much normal but stalking him is not a normal thing it's completely creepy.
Is she for real?      
Not only it was a awkward read but it was kinda boring too and I  struggled a lot to get through it. There were also some things that truly made me barf like how the girls checking out the particular anatomy of their teacher and also discussing about it*puke*.
And our other Character named Thomas Drummond is another major character  in this plot mostly called as Mr.Drummond. Mr.Drummond is the new appointed teacher  in Charlie's school who teaches English lit.At start Charlie hated his attitude with how he called her chuck in front of the whole class but guess what slowly she developed a crush on him. At class she started to fantasize about him  and she always perks up whenever his name was mentioned. At first I thought of Mr.Drummond as a normal teacher who is friendly with his students but turns out he was also a little bit weird who got some issues cause inside he always felt something like this
My main problem is with Charlie cause she was a bit whiny, childish and also got some trust issues.She didn't want to give her mother a chance who  treated her nicely but instead she always lashes out her anger on her.There is also lots of this which is kinda annoying
There are so many things in this book that I felt wrong and I think it isn't suitable for teens.
The plot is slow paced and at start it was good but slowly it became awkward especially with Charlie and after that I lost interest in it and just because of my curiosity  about how it's gonna end, I continued to read it till the end. The only good thing that I liked in this was the ending which is normal and satisfying. Personally I wouldn't recommend this book to anyone but if you are into this awkward romance stuff then go for it.