Hello there! Welcome back 🙂 It's time for the second WWW meme and here it goes
The WWW meme was formerly Hosted by Miz B at Should be Reading
Now It was revived at Taking on a World of Words
To play along, just answer the following three (3) questions…
• What are you currently reading?
• What did you recently finish reading?
• What do you think you'll read next?
I am currently Reading:        
                THE STARS NEVER RISE BY RACHEL VINCENT      

 I've waited for this book for a long time and now I'm so excited to read it, currently I'm at the starting phase and so far it's good.
BLURB: Sixteen-year-old Nina Kane should be worrying about her immortal soul, but she's too busy trying to actually survive. Her town's population has been decimated by soul-consuming demons, and souls are in short supply. Watching over her younger sister, Mellie, and scraping together food and money are all that matters. The two of them are a family. They gave up on their deadbeat mom a long time ago.
When Nina discovers that Mellie is keeping a secret that threatens their very existence, she'll do anything to protect her. Because in New Temperance, sins are prosecuted as crimes by the brutal Church and its army of black-robed exorcists. And Mellie's sin has put her in serious trouble.
To keep them both alive, Nina will need to trust Finn, a fugitive with deep green eyes who has already saved her life once and who might just be an exorcist. But what kind of exorcist wears a hoodie?
Wanted by the Church and hunted by dark forces, Nina knows she can't survive on her own. She needs Finn and his group of rogue friends just as much as they need her.
---
2. I Just Recently Finished Reading:
MY BITTERSWEET SUMMER By STARLA HUCHTON
    Review posted Here: My Bittersweet Summer
  
       Absolutely Loved It! Its a good summer Read
BLURB: Margaret Walsh worked for six years to overcome the trauma she endured at the hands of bullies as a kid, and graduation promises the chance to start over in college and leave the past behind her for good.
What was supposed to be her last summer of fun before moving to Paris turns into a nightmare as her parents announce they're taking over management of a restaurant in the New England beach town where she spent her childhood. For them, it's an amazing possibility. For her, it means confronting memories— and people— she'd rather forget.
Margie's all grown up now, but some things never change. When Zach Robinson insists he's not the bully she remembers, it's all she can do not to laugh. Still, if she's learned anything over years, it's that everyone deserves an opportunity to be better.
Even lost causes need second chances, but with her heart on the line, asking her to bet on a long shot might take more faith than she's willing to give.
---
 JOYRIDE BY ANNA BANKS
Review Posted Here: Joyride

                                          Expected More from it but it was a fun read.
BLURB:
Who says opposites don't attract?
It's been several years since Carly Vega's parents were deported. Carly lives with her older brother, studies hard, and works the graveyard shift at a convenience store to earn enough to bring her parents back from Mexico.
Arden Moss used to be the star quarterback at school. He used to date popular blondes and have fun pranking with his older sister. But now all that's changed, and Arden needs a new accomplice. Especially one his father, the town sheriff, will disapprove.?
All Carly wants, at first, is to stay under the radar and do what her family expects. All Arden wants is to not do what his family expects. When their paths cross, they each realize they've been living according to the wishes of others. Carly and Arden's journey toward their true hearts – and one another– is funny, romantic, and sometimes harsh. Just like real life.
---
3.Next I'm Going To Read These Books:
EVEN WHEN YOU LIE TO ME BY JESSICA ALCOTT
 BLURB: Charlie, a senior, isn't looking forward to her last year of high school. Another year of living in the shadow of her best friend, Lila. Another year of hiding behind the covers of her favorite novels. Another year of navigating her tense relationship with her perfectionist mom.
But everything changes when she meets her new English teacher. Mr. Drummond is smart. Irreverent. Funny. Hot. Everyone loves him. And Charlie thinks he's the only one who gets her.
She also thinks she might not be the only one with a crush.In this stunning debut, Jessica Alcott explores relationships-and their boundaries-in a way that is both searingly honest and sympathetic. 
---
INHERIT THE STARS BY TESSA ELWOOD [ARC]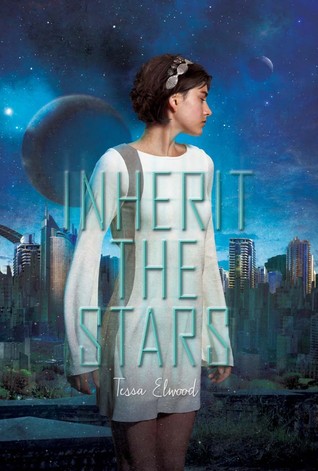 BLURB: Three royal houses ruling three interplanetary systems are on the brink of collapse, and they must either ally together or tear each other apart in order for their people to survive.
Asa is the youngest daughter of the house of Fane, which has been fighting a devastating food and energy crisis for far too long. She thinks she can save her family's livelihood by posing as her oldest sister in an arranged marriage with Eagle, the heir to the throne of the house of Westlet. The appearance of her mother, a traitor who defected to the house of Galton, adds fuel to the fire, while Asa also tries to save her sister Wren's life . . . possibly from the hands of their own father.
But as Asa and Eagle forge a genuine bond, will secrets from the past and the urgent needs of their people in the present keep them divided?
Author Tessa Elwood's debut series is an epic romance at heart, set against a mine field of political machinations, space adventure, and deep-seeded family loyalties.
---
please feel free to share your thoughts or comments below 🙂