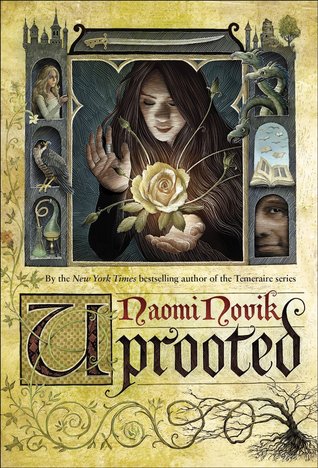 RELEASE DATE: May 19th 2015
AUTHOR: Naomi Novik
GENRE:Young-Adult,Fantasy, Paranormal, Romance.
PUBLISHER: Del Rey
SUMMARY: "Our Dragon doesn't eat the girls he takes, no matter what stories they tell outside our valley. We hear them sometimes, from travelers passing through. They talk as though we were doing human sacrifice, and he were a real dragon. Of course that's not true: he may be a wizard and immortal, but he's still a man, and our fathers would band together and kill him if he wanted to eat one of us every ten years. He protects us against the Wood, and we're grateful, but not that grateful."
Agnieszka loves her valley home, her quiet village, the forests and the bright shining river. But the corrupted Wood stands on the border, full of malevolent power, and its shadow lies over her life.
Her people rely on the cold, driven wizard known only as the Dragon to keep its powers at bay. But he demands a terrible price for his help: one young woman handed over to serve him for ten years, a fate almost as terrible as falling to the Wood.
The next choosing is fast approaching, and Agnieszka is afraid. She knows—everyone knows—that the Dragon will take Kasia: beautiful, graceful, brave Kasia, all the things Agnieszka isn't, and her dearest friend in the world. And there is no way to save her.
But Agnieszka fears the wrong things. For when the Dragon comes, it is not Kasia he will choose.
MY REVIEW:
*Phew…..* Finally it was finished, this book really did took a lot of  time for me to complete it,  gosh it was too long. The whole book felt something like a dark fairy tale, it was a mix of polish folk tale and fantasy which I'm kinda new to it so I'm in. The whole journey in the book gives a tremendous feeling of magical and fantasy experience.The world that the author build is really awe inspiring.To all the fantasy lovers who still didn't read it yet, but still want to then read it because
Everything in this book is fascinating and captivating.The plot is well written and the characters are well connected and perfect. The main protagonist in our story is Agnieszka who is  soft hearted, clumsy, brave and extremely loyal towards her best friend Kasia. When the Dragon chooses her but not her beautiful friend Kasia she gets totally baffled by his decision.For the next ten years Agnieszka has to stay in the towers and serve the Dragon who is the only resident in it.The thing about staying in the tower for ten years and restricted on going outside or meet anyone reminded me a lot of Rapunzel's tale but it's totally different from it.
Well coming to Dragon he is a neat freak who keeps to himself doesn't keep any servants in his tower because of some kind of trust issues, and also doesn't talk much except for scolding Agnieszka with her clumsiness, and also for her not able to make herself look clean even for 1 minute because you'll always find some kind of dirt or mud on her gown it totally gets him on his nerves.On the first day when she arrived to the tower he acted like a total jerk towards her. I've really enjoyed the banters between Agnieszka and Dragon, and loved the way she stood up to him it was really hilarious. The chemistry between them felt a little bit awkward to me because I felt there was some lack of feelings from Dragon's side.The plot is more focused on the story and less on the romantic relationship between these two but still it was a good read.
Agnieszka and Dragon make a good tag team in spell casting and summoning.The main focus of the story is about the oncoming danger from the woods. People who accidentally get into woods or dragged into it, either they wouldn't come back or may come back  corrupted by the woods darkness that fills their minds with murderous thoughts.When her best friend Kasia gets kidnapped by these woods, she goes alone to rescue her before it's too late.When  prince Marek hears about this, he orders  Dragon and Agnieszka to help him rescue his mother also the queen  who was been captive in the woods for the last 20 years or else Kasia will be executed.So to save her friend from execution she agrees to the mission and hence begins the  journey to the woods.There are lots of twists and turns and suspense in it that you wouldn't want to leave it unfinished, but let me remind you this book is somewhat lengthy and I have skipped some pages to get  to the final battle.
Overall it is a fascinating tale with lots of magic,spells,potions,wood monsters, kickass action,lots of violence etc., that would make readers spell bound to it till the end.The best thing about this book is it's magical fairy tale feel to it mixed with creepiness and scariness.I'd highly recommend this book to everyone who likes fantasy and dark fairy tales. Ok now I'm done *sigh* my eyes are feeling sleepy and tired.