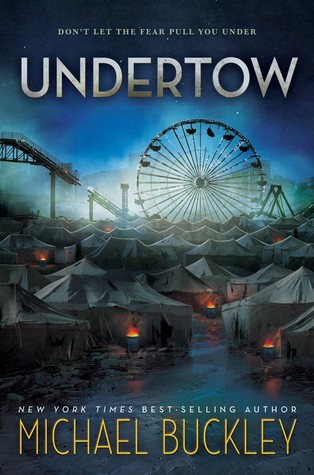 RELEASE DATE: May 5th 2015  AUTHOR: Michael Buckley
GENRE: Young-Adult,Fantasy, Paranormal, Romance.
PUBLISHER: HMH Books for Young Readers.
SUMMARY: Sixteen-year-old Lyric Walker's life is forever changed when she witnesses the arrival of 30,000 Alpha, a five-nation race of ocean-dwelling warriors, on her beach in Coney Island. The world's initial wonder and awe over the Alpha quickly turns ugly and paranoid and violent, and Lyric's small town transforms into a military zone with humans on one side and Alpha on the other. When Lyric is recruited to help the crown prince, a boy named Fathom, assimilate, she begins to fall for him. But their love is a dangerous one, and there are forces on both sides working to keep them apart. Only, what if the Alpha are not actually the enemy? What if they are in fact humanity's only hope of survival? Because the real enemy is coming. And it's more terrifying than anything the world has ever seen.

MY REVIEW:  If I have to describe this book in two words then it'll be "Fantastic Read".I actually didn't expect to love this as much as I did.At First I was pretty much confused about what's going on around but after further reading I totally got it. I had my doubts when I picked this but after finishing the book I just loved it.

                           I only picked this book because the blurb sounded unique and also because of "merfolks" which is one of my favorite mythical creatures.The whole plot is centered around the place named Coney Island.It's been three years when the ocean dwelling warriors named themselves as "Alpha", came to live at the beach situated at the Coney Island which is now considered as the zone.
                            The main protagonist in this plot is Lyric Walker who is the resident of Coney Island and also a student in Hylan High School.Lyric is really a brave, caring and sometimes rebellious character who always loves  her family and also loyal towards her friends Bex and Tito.The friendship between Bex and Lyric potrayed really well.The whole plot is unique and mysterious which was enough for me to hooked to it till the end.
                             The book started with the whole place in uproar when the government and the Alpha has come to a mutual understanding and decided that the Alpha children can also attend the high school alongside humans with  high security provided.Six Young Alpha's have started attending Hylan High and one of them is Fathom who is also the prince of his race.There were so many protests at outside and even in high school with all the bullying.Lyric Walker is asked to lay low and not  interact with the Alpha's in anyway, but trouble always finds her and she ends up being the one to spend the time with Fathom everyday.
                           The first half of the book is slow paced with all the high school drama, bullying etc., and the real deal starts at the second half which is fast paced and action packed.It was total entertainment all the way through.Fathom is a hard character to get to know but he was really amazing and also got an captivating personality.The forbidden chemistry between Lryic and Fathom is good but not that great. Thankfully  there was no complicated triangle in it.
                          This is my first book that I've read from this author and I must say It was well written plot with perfection.After finishing the first book now I'm in serious need of the second installation.I'll definitely read the second book to know what's gonna happen with Lyric and Fathom, and I'd highly recommend this one.