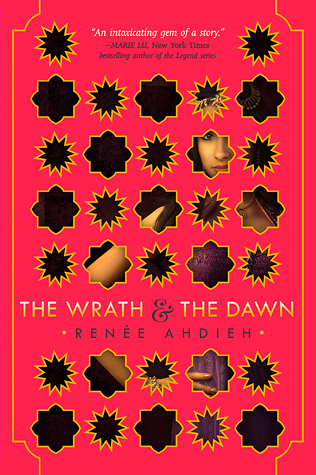 RELEASE DATE: May 12th 2015
AUTHOR: Renee Ahdieh
GENRE: Young-Adult,Fantasy,
Romance.
PUBLISHER: G.P. Putnam's Sons Books
SUMMARY: A sumptuous and epically told love story inspired by A Thousand and One Nights
Every dawn brings horror to a different family in a land ruled by a killer. Khalid, the eighteen-year-old Caliph of Khorasan, takes a new bride each night only to have her executed at sunrise. So it is a suspicious surprise when sixteen-year-old Shahrzad volunteers to marry Khalid. But she does so with a clever plan to stay alive and exact revenge on the Caliph for the murder of her best friend and countless other girls. Shazi's wit and will, indeed, get her through to the dawn that no others have seen, but with a catch . . . she's falling in love with the very boy who killed her dearest friend.
She discovers that the murderous boy-king is not all that he seems and neither are the deaths of so many girls. Shazi is determined to uncover the reason for the murders and to break the cycle once and for all.


MY REVIEW: 
If there is another alternative to Disney's fairytales then it's"The Arabian Nights". Disney Fairy tales like Cinderella, snowwhite, beauty and the beast etc.,    depicts magical and romantic fairy  tale experience but the "The Arabian Nights is all about adventure, fantasy and love.Well coming to the current book "The Wrath and The Dawn" is really a captivating story which is quite mysterious and romantic in it's own way.I felt the cover looked weird but the blurb looked interesting so I gave it a try and now I'm quite satisfied and I got more than I expected.
          Shahrzad is a fun,kick-ass girl who is always brave and sometimes stubborn and also got a potty mouth on her. Even Knowing the consequences of being the new queen of Khalid she volunteers to be his bride with revenge on her mind.She wanted to take her revenge on Khalid for murdering her best friend Shiva who was also one of the previous brides of Khalid.After the first encounter with Caliph of Khorasan she realises that he was different from what she thought.She has survived to see the next sunrise where no other previous brides has succeeded by telling a story to Khalid which eventually led him to let her live one more day and finish the story.From there on every night became story telling nights.With each days passing  she starts to get attracted towards Khalid which is a big obstacle to her revenge.So she starts to get curious and wants to know about  the reason and the mystery behind all the killings so she can punish him for his deeds and forget about her inner turmoils.It was a emotional read for me with all the anger, hurt, frustration, and forbidden love.
            Khalid is a man of mystery who is always quite and always keeps his feelings to himself and doesn't show it on his face.At the first meeting with Shahrzad he gets bewildered with her attitude and gets totally charmed by her stubbornness and with time  he slowly begins to  express his feelings towards her.Khalid may look cold on the outside but inside he is really brave and caring man with a violent past. The Character Tariq is a childhood best friend and also lover to shazi who wants to rescue her from Caliph of Khorasan, so a triangle can be predicted. Jalal who is quite flirty in nature and Despina who is both sarcastic and quite amusing, are other interesting characters in this plot that I've really liked to know.
            The story is  slow paced and if you are looking for a fast paced action scenes in it then I must say you may not like it. And it is also narrated in multiple POV. The Author done a marvellous job in weaving this wonderful tale.The book ended with a cliffhanger which was a torture because I hate cliffhangers but I'll definitely wait for the next installment. Do I recommend it? a big "Yes" but don't expect too much from it.