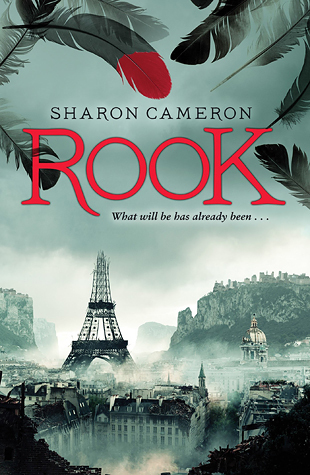 RELEASE DATE: April 28th 2015
AUTHOR: Sharon Cameron
GENRE: Young-Adult,Dystopia,Fiction, Fantasy,Romance.
SUMMARY: History has a way of repeating itself. In the Sunken City that was once Paris, all who oppose the new revolution are being put to the blade. Except for those who disappear from their prison cells, a red-tipped rook feather left in their place. Is the mysterious Red Rook a savior of the innocent or a criminal?
Meanwhile, across the sea in the Commonwealth, Sophia Bellamy's arranged marriage to the wealthy René Hasard is the last chance to save her family from ruin. But when the search for the Red Rook comes straight to her doorstep, Sophia discovers that her fiancé is not all he seems. Which is only fair, because neither is she.
As the Red Rook grows bolder and the stakes grow higher, Sophia and René find themselves locked in a tantalizing game of cat and mouse.


MY REVIEW:  I don't know how to rate this book, my feelings for this book is pretty unclear and confusing because i didn't loved it or hate it either.The synopsis spoke so many good things and looked something new.I had so many expectations with this book but after reading it, I was totally disappointed.It was my first book from the author, so I have no idea about her other works, but still I gave it a try because of its unique plot and when I finally got it in my hands I just jumped with excitement in my head but alas, it didn't stay the same after reading it.

The story started good after some time it totally went down hill and nothing exciting happened until the end.I felt, like I was reading a regency novel not a dystopian novel.The story was slow paced and lengthy.In most  parts of this book i felt bored.When coming to the writing skills let's say I was slightly struggled with it, the writing seemed like it was meant for the PRO readers.The story is narrated in multiple pov and did i liked it nope, i don't like books containing more than three pov's it would've been better if it got only major characters POV.The pacing of this story is a total snail walk which would surely make us want to skip it to the end.
I must agree that the plot was good but it was lacking action and exciting scenes where you could go crazy.Honestly I only liked starting phase and ending phase of the book because only  those  seemed more exciting parts of the book.To me Sophia is a total adventurous and fun girl and Rene is a total mystery guy with mysterious agenda.All the characters are well connected.
The thing with Sophia and Spear was a total disaster, though I felt bad for him in the end.Our villain in the story "Le Blanc" is a total lunatic guy and pretty much insane.It  seemed really funny about how the things which contained printed words  "Diet" on it are considered more expensive than other things.The chemistry between Sophia and Rene is good but i felt something lacking from the Sophia's side.There were some twists in this book that made me want to continue otherwise i was close to DNF'ing it.
Finally i can say that this book got it pro's and con's, and I think it may be enjoyed more by others.I did see some people loved it and some not, and i'm definitely from the not category.Actually I wanted to give it  2 stars but for the plot i gave it a 3 star rating.I don't want to judge it as a bad book it's only that it didn't excite me much but i'd recommend it.