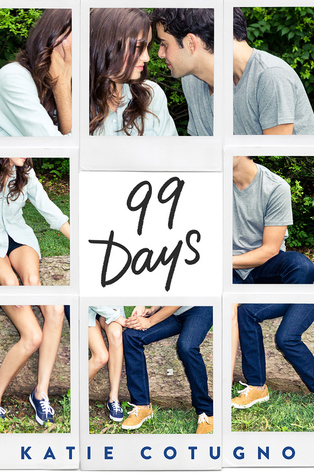 RELEASE DATE: April 21st 2015
AUTHOR: Katie Cotugno
GENRE: Young-Adult,Contemporary,
Romance.
SUMMARY: Day 1: Julia Donnelly eggs my house my first night back in Star Lake, and that's how I know everyone still remembers everything—how I destroyed my relationship with Patrick the night everything happened with his brother, Gabe. How I wrecked their whole family. Now I'm serving out my summer like a jail sentence: Just ninety-nine days till I can leave for college, and be done.
Day 4: A nasty note on my windshield makes it clear Julia isn't finished. I'm expecting a fight when someone taps me on the shoulder, but it's just Gabe, home from college and actually happy to see me. "For what it's worth, Molly Barlow," he says, "I'm really glad you're back."
Day 12: Gabe got me to come to this party, and I'm actually having fun. I think he's about to kiss me—and that's when I see Patrick. My Patrick, who's supposed to be clear across the country. My Patrick, who's never going to forgive me.
MY REVIEW:   Well I just liked this book but I don't love it, I think many people won't like this book because the female protagonist  is a cheating girlfriend.The book was easy to get into and it felt realistic.Honestly I wanted to give it a 2 star rating, because of the effort put by the author I gave it a 3 star rating.
                             Molly returns to her home after staying in boarding school for one year where she left her home with her humiliating past.Before she left for the boarding school she  cheated her boyfriend Patrick with his brother Gabe. After her cheating was revealed to public and friends she was tagged as a slut by everyone.Molly thought that it's been  a year and everybody would forget about it but nope she was still treated with the same hatred.Nobody was happy for her return everyone welcomed her back with hatred in their eyes but Gabe is the only who was happy for her return.She starts dating Gabe to give him a chance who always loved her and when she meets her ex-boyfriend patrick again old feelings ignite inside her.Even after everything has happened before she didn't learned her lesson because she again cheats on Gabe with Patrick and it was pretty messed up.Molly is a female protagonist you won't like and till the end I still hated her. I was really mad with Molly's mom because how can she write her daughter's private life in a book so it can make a bestseller it was really sick.
                            After all the mess I still continued to read becuase I was really curious about who she's gonna end with before she left for the college.After all the frustrations and emotional ride  with this book I eagerly anticipated for the end but the end totally baffled me. Honestly I wouldn't recommend this book to anyone because after you read it you won't be satisfied with it.If you don't have any problems with cheating girlfriends and how the book will end then just go for it.
My Feelings After i completed this book: