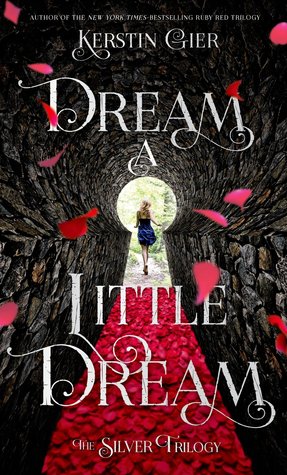 RELEASE DATE: April 14th 2015
AUTHOR: Kerstin Gier
GENRE: Young-Adult,Fantasy,
Paranormal,Romance,Fiction
SUMMARY: Mysterious doors with lizard-head knobs. Talking stone statues. A crazy girl with a hatchet. Yep, Liv's dreams have been pretty weird lately. Especially this one where she's in a graveyard at night, watching four boys perform dark magic rituals.
The really weird thing is that Liv recognizes the boys in her dream. They're classmates from her new school in London, the school where's she's starting over because her mom has moved them to a new country (again). But they seem to know things about her in real life that they couldn't possibly know, which is mystifying. Then again, Liv could never resist a good mystery. . . .
MY REVIEW:    I didn't read Kerstin Gier's bestseller "Ruby Red" but I gave this book a try and now I know why there was so much fuss about that book because the author got a good story building and writing skills. Even though I didn't read Ruby Red novel I did watched the movie, which was based on the novel and I loved watching it. Now for the current book firstly, it's got an intriguing blurb that trapped me and its got an beautiful cover which made me want to snoop inside this world. I Just devoured the book, with all the mystery,humor and love it made the whole journey exciting and i really loved how the author portrayed the relationship between both sisters. The dream world was really a fabulous creation by the author and I'd applaud her for her creativity.
                           The story starts with Liv which is short for Olivia and her sister Mia who  constantly travels are once again moving to another new place which wasn't new to them but this new move comes with a surprise which is her mom's new boyfriend whom she will be expected to be married in the near future.If a new step dad wasn't enough they also have to endure their new step sister Florence who always acts cold towards them and a step brother Grayson who acts like he doesn't care. After some understanding the two sisters are get to live with their new family. Being once again a New Student in School isn't new to Liv but meeting the four popular boys Arthur,Jasper, Henry and lastly her new stepbrother Grayson may bring something exciting in the near future.
                          When Liv stumbles upon the four boys in her dream world she thinks she's having a real normal dream and when she witnesses the four boys doing a ritual so many questions arise and so begins her quest for finding answers. I've read so many books where this kind of pentagram rituals is only done by the girls and there were only few books where we find boys do this witchery stuff. This book reminded me of the Movie named "The Covenant" even though they don't have special witch powers like them I'd enjoyed reading this book.There were so many funny banters, sarcastic teasing done by both sisters who also got a good sense of humor.If i'd really had to imagine my own dream door then i'd like to have it as silver color metal door with dragon head knob.
                                Even though it was translated from another language there was no difficulty in understanding the story and it was narrated perfectly.There was no triangle in the story and there was also some romance in it where Liv forms a romantic relational ship with one of the three boys which i'm not going to reveal.I think the end will come as a surprise for everyone and i'd definitely read the sequel to know what's gonna happen next.I hope the sequel will be much more better and exciting than this, and i recommend everyone to read it.