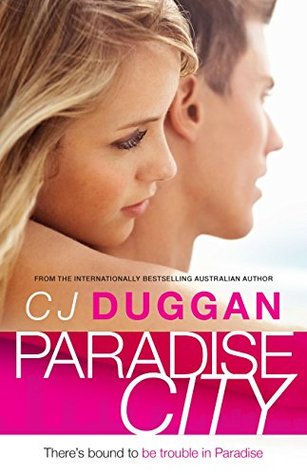 RELEASE DATE: April 28th 2015
AUTHOR: C.J.Duggan
GENRE: New-Adult, Contemporary,Romance.
SUMMARY: There's bound to be trouble in Paradise . . .
When her parents decide a change will be good for her, seventeen-year-old Lexie Atkinson never expected they'd send her all the way to Paradise City. Coming from a predictable life of home schooling on a rural Australian property, she's sure that Paradise will be amazing. But when she's thrust into a public school without a friendly face in sight, and forced to share a room with her insipid, hateful cousin Amanda, Lexie's not so sure.
Hanging out with the self-proclaimed beach bums of the city, sneaking out, late night parties and parking with boys are all things Lexie's never experienced, but all that's about to change. It's new, terrifying . . . and exciting. But when she meets Luke Ballantine, exciting doesn't even come close to describing her new life. Trouble with a capital T, Luke is impulsive, charming and answers to no one. The resident bad-boy leader of the group, he's sexier than any boy Lexie has ever known.
Amidst the stolen moments of knowing looks and heated touches, Lexie can't help but wonder if Luke is going to be good for her . . . or very,very bad?

MY REVIEW:   Well it was  amazingly a fun read for me with all the juicy stuff and i thank the publisher for providing me the ARC.At first i was afraid i ain't going to like this but after Lexie moves from boring Red hill to paradise city i hoped it will get better and after arriving in the Paradise City things started to  get  more interesting and just like that i was  Hooked.I really appreciate the author for keeping the plot focused more on the story unlike other New Adult books which contained  too much sex.This book was more of a Mature YA feel to it and the author's writing skills are pretty good and it was easy to understand.
Lexie was home-schooled her whole life in red hill and when she was told she was going to complete her high school in paradise city she gets pretty excited about it and she thinks that her wish has come true and thought she was going to enjoy a lot with her cousin.After her first encounter with her cousin amanda  who has  changed a lot all her anticipations has gone out of the window.With her cousin hating her and her being new to high school Lexie thought that her life in Paradise high was going to be hard until she meets Paradise High's bad boy Luke Ballantine who makes her feel gooey inside her. Lexie gets to experience a new life which contains secret night outs with surfer boys, late night parties and making out with school's bad boy.Honestly i didn't like Lex that much she always thinks about Ballantine like he is her whole world  but story wise it was good so it was easy to endure her.I pretty much don't like female protogonists who goes total bonkers over a hot boy.
While reading this book i've always got this feeling like"what's gonna happen next" and there were some funny situations that made me smile. Miss Duggan created such a wonderful plot that can be considered as a fun read with not too much adultish stuff  but it got an interesting plot that makes you want to continue and that's what happened with me.Readers who are into  Abbi Glines works will surely love this series.All the characters are well crafted and well connected.
After completing half of the book i thought there would be no more twists in the story but there is a big twist named "Dean"  who looks more badass than Ballantine. There is a hidden rivalry going on between Luke and Dean which may be revealed in the sequel and when Lexie gets caught between them things go  from bad to worst situation. After the book ended with a huge cliffhanger i just felt so unfair that it has ended like that but i still don't regret reading this and hope there would be more exciting drama in the sequel.
This was my first book of the author and after having a taste of C.J.Duggan's work now i'd like to read more of her works.It was a fast paced fun read with so many steamy situations and some of you may not like with some cliché stuff but it can be overlooked when you are looking for a fun read but not for an intense read.I am looking forward to the sequel and hope there  would be more about Dean because i liked Dean more than Luke.