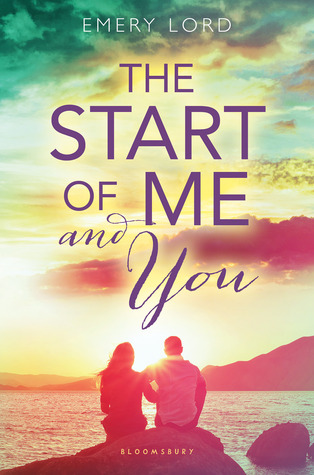 RELEASE DATE: March 31st 2015
AUTHOR: Emery Lord
GENRE:Young-Adult,Contemporary,Romance.
SUMMARY: Brimming with heartfelt relationships and authentic high-school dynamics The Start of Me and You proves that it's never too late for second chances.
It's been a year since it happened—when Paige Hancock's first boyfriend died in an accident. After shutting out the world for two years, Paige is finally ready for a second chance at high school . . . and she has a plan. First: Get her old crush, Ryan Chase, to date her—the perfect way to convince everyone she's back to normal. Next: Join a club—simple, it's high school after all. But when Ryan's sweet, nerdy cousin, Max, moves to town and recruits Paige for the Quiz Bowl team (of all things!) her perfect plan is thrown for a serious loop. Will Paige be able to face her fears and finally open herself up to the life she was meant to live?
MY REVIEW:   Well I've Picked this book because I've read so many positive reviews about this book and they stayed true to me.For me it was a pure Contemporary read and looked so realistic while reading it.Author Emery Lord beautifully portrayed the importance of family, friendship and love in it.The Characters are well built and connected which seemed so much close to reality.
                  The main aspect of this story is all about second chances of finding love and happiness.The best thing about this book was that there was no typical high school drama which i hugely appreciate it.I really liked how the author portrayed the friendship between Paige and her three best friends Tessa,Kayleigh,Morgan and how they helped her in overcoming the grief about her boyfriend's death.
                          Paige is a pretty likable character and easy to get to know.To overcome the grief and begin a new future and happiness Paige makes a list of plans for her life but she didn't expect that some things always  didn't go as planned.Most of the book was about friendship between four best friends and how they stood when they are in need of each other like how Paige drove midnight in a car to rescue Kayleigh. Paige is  close to her grand mother who has a Alzheimer disease and always shares her feelings to her. The story was slow paced emotional read and there was no rush in development  of feelings.
                            I really really loved the nerd boy Max more than his cousin Ryan Chase.There was no insta attraction and the feelings develop with time between Max and Paige. Paige always felt comfortable with Max, while being with him she can be herself and always felt connected to him more than her crush.With time she develops feelings for him which is more than friendship and she herself is unaware of it until the end.I really liked how Max calls her Janie and the nick names,  funny banters between Max and paige was really cute.
                     The title suits the story really well and the author's writing skills are easy to understand.This book perfected all the major factors such as friendship,family and love which is applaud worthy.Overall it was a amazing YA read and i would highly recommend every one who are into YA contemporary to read it.