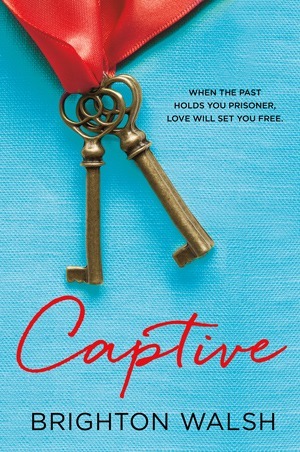 RELEASE DATE: March 24th 2015
AUTHOR:  Brighton Walsh
GENRE: New-Adult,Contemporary,Romance
SUMMARY: He's the most dangerous man she's ever met…and she's falling in love with him.
Madison Frost is desperate to escape her life. Daughter of a prominent businessman, she has everything a girl could ask for. Except for a family who's present in her life, and anyone to talk to outside the four walls of the prison she calls home. Madison dreams of one day leaving her life behind. She never thought being kidnapped is how it would happen.
Now she's being held captive by a man who's as frightening as he is sinfully gorgeous. Enormous, muscular, and filled with secrets, the man they call Ghost is an enigmatic mercenary, and Madison is trapped with him. She doesn't know who hired him or why, but the more time she spends at his mercy, the more she realizes he's not what he seems. Beneath his rough exterior lies an unexpected gentleness and a heart as broken and battered as her own.
But as Madison lets down her walls, Ghost holds tight to his, hiding secrets that could destroy everything.
REVIEW: It was really a heart wrenching and heart pounding story. It was my first book from the author and it did surprised me a lot and also made me blush a lot.The author got  good writing skills and i'm very happy that she provided alternative pov's from both Madison and Gage. She made a captivating and Compelling story that made readers totally spellbound.
Madison is a 20 year old smart, shy and lonely girl who always strives for love and attention from her father and an alcoholic mother who never cares for her. Madison always wears a mask in the outside world that only shows a rich girl with a perfect family but in actual reality it was a total facade. She always wanted to have a normal life where passing the exams were the only concerns for her  unlike the life she was having.
When Madison gets kidnapped by her captor named Ghost, her life will never be the same again. I was really happy that there was no insta attraction between the two characters. Ghost always shows the hard exterior towards Madison but inside he was sweet and caring. He was in this dirty business just because he needs money to provide for his brother Riley. I liked all the characters, they are well build and narrated perfectly.
The relationship between Ghost and Madison is intriguing. As the time goes by the connection between them grows which leads to attraction and after that it turns into something much more. There was so much sexual tension between the characters which ignites into fire and then lots of smut. Madison didn't even imagined that the love she was always looking for will be found in the arms of her captor.
The Story is all about a forbidden romance between a captor and captive with lots of love and betrayals and unlike other books it doesn't have any BDSM stuff. Even though it was a good story, I thought something lacking in it and the end seemed more rushed to me, but i enjoyed every minute of it. After the very happy ending of this story, I can't wait for the Riley's story.