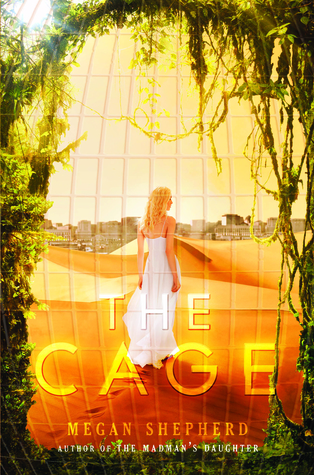 RELEASE DATE: May 26th 2015
AUTHOR: Megan Shepherd
GENRE: Young–Adult, Sci-Fi,Romance
SUMMARY:When Cora Mason wakes in a desert, she doesn't know where she is or who put her there. As she explores, she finds an impossible mix of environments—tundra next to desert, farm next to jungle, and a strangely empty town cobbled together from different cultures—all watched over by eerie black windows. And she isn't alone.
Four other teenagers have also been taken: a beautiful model, a tattooed smuggler, a secretive genius, and an army brat who seems to know too much about Cora's past. None of them have a clue as to what happened, and all of them have secrets. As the unlikely group struggles for leadership, they slowly start to trust each other. But when their mysterious jailer—a handsome young guard called Cassian—appears, they realize that their captivity is more terrifying than they could ever imagine: Their captors aren't from Earth. And they have taken the five teenagers for an otherworldly zoo—where the exhibits are humans.
As a forbidden attraction develops between Cora and Cassian, she realizes that her best chance of escape might be in the arms of her own jailer—though that would mean leaving the others behind. Can Cora manage to save herself and her companions? And if so . . . what world lies beyond the walls of their cage?
REVIEW:
It was a good read for me but it wasn't that much exciting and blow your mind thing. The author got good writing skills but the story didn't make that much of a effect on me. With interesting blurb and a beautiful cover I expected more from it but it didn't reached my expectations but it was an ok read. This book is a total sci-fi read with alien abduction and survival.
The story is about how Cora and four other teenagers are abducted by the aliens and wakes up to find themselves in a different place. The five teenagers are taken so they can be exhibited in the otherworld zoo in some alien world. The plot takes on with how cora and the other struggles to survive on the unfamiliar land.
While surviving is not enough the humans had to obey the three rules for them to survive 1.Decode the puzzles and the winner will get some kind of tokens(that was so weird). 2. Stay healthy 3.Breed. With this going on, Cora plans for the escape in which she got no idea what kind of situation she was in or where she will escape to. Even though she hears that the earth has been destroyed she still plans for an escape. After some time, the five teenagers get some trouble with trust issues among themselves. Honestly, the female protaganist here is really annoying and irritating character but she is always brave with "we must escape" act.
Well coming to Cassian, he is the one who selected Cora and observed her for sometime on earth before the abduction has happened. There was an Insta attraction between Cora and cassian even though he is her captor. In all this mess, there was a triangle between Cassian,Cora and lucky. The story is narrated in multiple pov and there were some parts that was draggy and annoying but it was a good read.
Finally the book ends with a cliffhanger and I'll look forward for the next installment to see what happens next. Even with some flaws it was good but not the best and I would not recommend it to anyone but if you got bored or nothing to do then go for it.