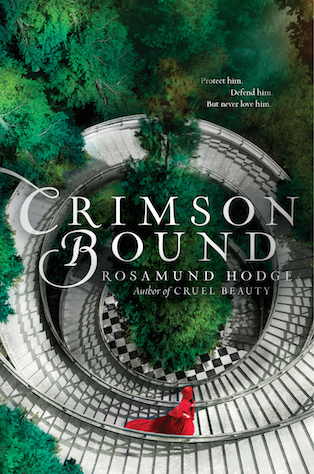 RELEASE DATE: May 5th 2015
AUTHOR: Rosamund Hodge
GENRE: Young–Adult, Fantasy
SUMMARY:When Rachelle was fifteen she was good—apprenticed to her aunt and in training to protect her village from dark magic. But she was also reckless— straying from the forest path in search of a way to free her world from the threat of eternal darkness. After an illicit meeting goes dreadfully wrong, Rachelle is forced to make a terrible choice that binds her to the very evil she had hoped to defeat.
Three years later, Rachelle has given her life to serving the realm, fighting deadly creatures in an effort to atone. When the king orders her to guard his son Armand—the man she hates most—Rachelle forces Armand to help her find the legendary sword that might save their world. As the two become unexpected allies, they uncover far-reaching conspiracies, hidden magic, and a love that may be their undoing. In a palace built on unbelievable wealth and dangerous secrets,can Rachelle discover the truth and stop the fall of endless night?
Inspired by the classic fairy tale Little Red Riding Hood, Crimson Bound is an exhilarating tale of darkness, love, and redemption.

REVIEW:
I'm a avid fan of Classic Fairy tales so I read anything that was inspired by them and Little Red Riding Hood is one of my favorite Character. I haven't read the Cruel beauty because I've seen so many readers disappointed with it but I gave this book a try because it sounded promising so, it's first my book by the author Rosamund Hodge and let me tell you she got a really good narrative skills. Although, it was inspired by the classic fairy tale Little Red Riding Hood, this book got more of a dark fairy tale essence and little of our own little red riding hood tale.
I thought there would be some big bad wolf but what I got is totally different from it. The whole book is kinda have a dark feel to it. At the start of the book the story was little confusing to me but after I had reached the half of the book I totally got it. If you can get past through half of the book you'll overcome the whole confusion. The Story was about a girl named Rachelle who was apprenticed by her aunt when she was 15 years Old. She was trained by her aunt to protect the village from the dark magic and evil forces that exist in the forest. One day the girl's path comes across the very darkness that her aunt warned about and despite her aunt's warnings she does something that shatters her entire life forever. She is marked by the forestborn which gives her two choices either kill somebody to live or die after three days. Not wanting to die she takes the first choice and becomes a bloodhound.
After Three Years with the guilt of her Aunt's Death in her mind Rachel sacrifices her life to serving the realm. Once a naive,shy and Innocent girl is now a Deadly,Strong, and kickass girl. Every night she fights the deadly creatures so that she can atone for the things she had done. Every day she was looking for a way that could free her from this curse. One day, the king orders her to guard his very own son Armand who she despises very much. Legend has it that there was a mysterious sword named Joyeuse that can destroy devourer yup "devourer" our main villain in our fairy tale. Rachel finds that the prince got some information about it so they both team-up together and hunt for the very sword. With time, they develop feelings for each other. I thought there wouldn't be no triangle in it but I was so wrong our heroine got mixed feelings for two guys. I absolutely hate those girls who have mixed feelings and don't make up their own mind. Anyway, I've got relieved after how the story turns afterwards. I Liked how the author narrated a short tale about Tyr and Zisa in which the mystery about the joyeuse sword is hidden.
When coming to the romance, I found something lacking in it but it wasn't bad either. There were some parts that I couldn't digest but everything else was perfect. Overall, well done for the narration, story and writing skills. If anyone looking for a dark fairy tale adventure with a romance then I would recommend them to read this.